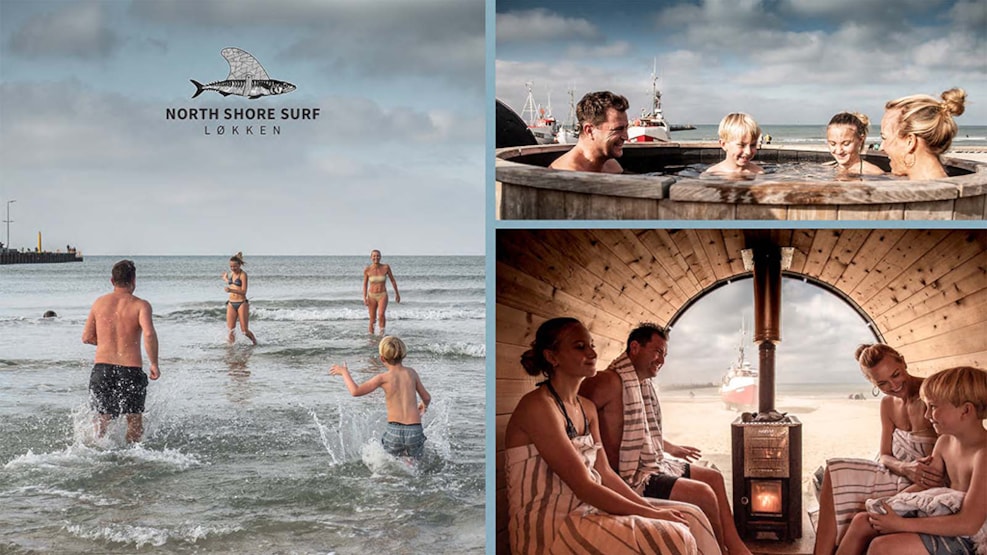 Sauna & wilderness bath - North Shore Surf
Escape to the west coast 
Leave all the worries at home, as you take good care of your body and soul. On the way down to the pier, you will find saunas and wilderness hot tubs. 
Sauna 
In the saunas you have the view on Løkken Pier, the fishing boats and the North Sea. The saunas are pointed towards west, so you also get a great view of the sunset, while sitting in warm and damping conditions. The use of the sauna fits in many occasions, e.g. after a run, beach workout, surfing, winter bathing or after doing nothing at all.
Wilderness bath
Treat your body and mind with a hop in the wilderness hot tub. If you are not a winter bather, you can admire the view of sea and Løkken Beach from the hot tub. Enjoy your hot tub experience with a cup of coffee or ice coffee depending on the season.
The saunas and the hot tubs are owned and managed by North Shore Surf. Contact them, if you wish to book the facilities. It is always a good idea to contact them first, outside the high season, since the wilderness bathtub is rentable.