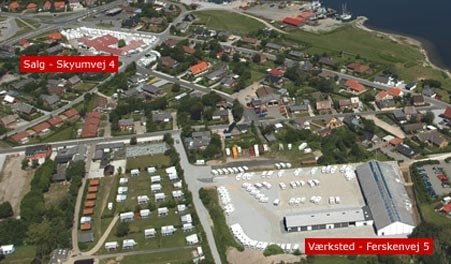 Møllegårdens Camping
Camping center and repair.
Møllegårdens Camping is a family business with proud traditions!
In 1968, Anna and Verner Nielsen, who at that time operated Møllegården as agriculture, were informed by the county that the new highway 26 had to go through the farm's land, and that agriculture therefore had to be closed down.
At the same time, Verner Nielsen had just been interested in caravans and tents at one of the exhibitions, which was regularly held in Vildsund Hallen, and thought that something like this could be sold in Vildsund.
Thought came to action: The agriculture was closed down, the farm rebuilt for the new purpose, and the first tents and caravans were ordered home.
Møllegårdens Camping was now a established.
Over the years, the company has developed into Northwest Jutland's largest camping center, with three generations of the Nielsen family in charge.
Here you will find the right caravan, regardless of whether you are completely new or an experienced camper.
We retail the market's most popular caravan brands, and we also have the largest selection of top-quality, used caravans in all price ranges in northwest Jutland.
At Møllegårdens Camping, a team of dedicated employees with many years of experience are ready to give you a good experience before, during and after your trade.