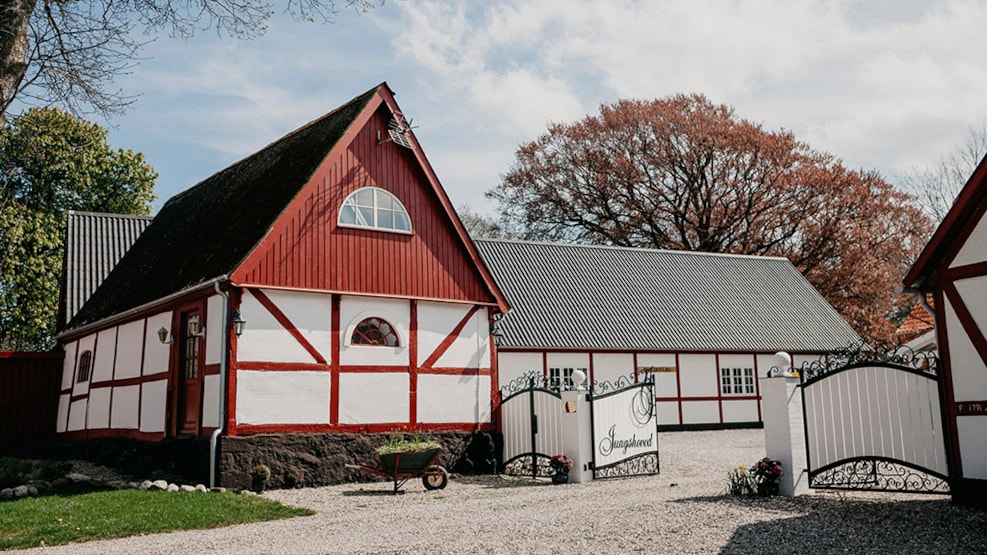 Jungshoved Præstegaard - Bed & Breakfast
In the picturesque nature on southern Zealand, among fields, forests and the sea, lies Jungshoved Præstegaard.
The family run seaside hotel and B&B invites guests in for an authentic experience and a true ambience of "hygge".
Dating back to 1791 with the function as a rectory, Jungshoved Præstegaard carries an interesting story.
A story of the life in the Danish countryside in times where the priest was among the wealthiest and the medieval church was the gathering venue for the locals.
Today, Jungshoved Præstegaard is run by a family in 2 generations.
Since 1992 the family has lived on the historic property and in 2010 they decided to turn their historic home into a luxurious accommodation.
With vivid view to the sea and fields and direct access to a private beach, Jungshoved Præstegaard is the perfect setting for a cozy getaway – for couples, friends or even families.
The large garden is often visited by deer, pheasants, hares and other wild animals of the Danish nature, making the surroundings authentic ad yet safe.
Each room at Jungshoved Præstegaard carries a unique history and no two rooms look the same.  
The rooms are decorated in light, Nordic colors with a focus on each individual room's history, as well as modern functionalities.
Some rooms have panorama view over the garden and sea, while others have view towards the sunset and the fields.
The flexibility of the rooms makes it possible for couples to enjoy a  romantic stay, as well as for families to have space for family time and fun.
Jungshoved Præstegaard also offers unique stays in their secret escapes with a special Nordic feel, as their hand-built forest cabin by the sea offers exclusive accommodation in naturistic surroundings. A must try as a romantic getaway for curious explorers.
Furthermore, Jungshoved Præstegaard is the perfect venue for private celebrations, such as weddings and birthdays, as well as corporate events.
Their beautiful banquet hall seats up to 80 guests for a high-class experience.
Let romance, hygge and indulgence enchant you at Jungshoved Præstegaard.
The family at Jungshoved Præstegaard looks forward to welcoming you to an authentic Danish experience.