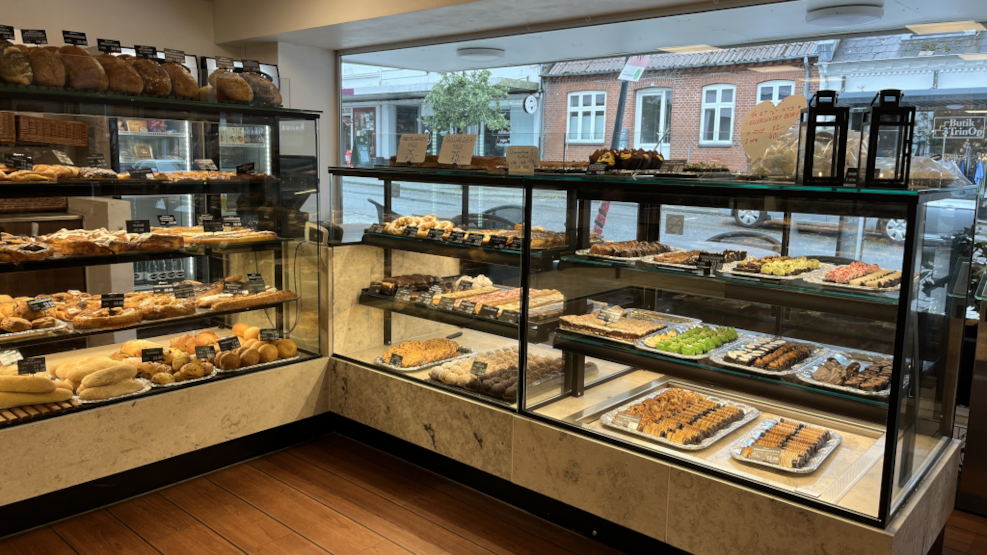 Huusom's bakery & café
This baker's shop in Brædstrup is much more than classic Danish bread and cakes (which is very recommendable). There is also a café here with the option of enjoying a sandwich or a good cup of coffee in a cosy setting.  You can also pick up lunch to-go before heading to the local nature.
Genuine quality craftsmanship in Brædstrup
Bredgade in Brædstrup is home to the local bakery, close to the railway square, the railway path, the activity park, and other attractions in town. Professional pride is the keyword for master baker Erik Huusom. All bread and cake are made from scratch and the staff are enthusiastic about creating the best taste experiences possible.
Get comfortable in the café
Danish "hygge" has the pride of place at Huusom's. A part of the shop is designed as a café with sofas and comfortable chairs, well-screened from the shop. Feel free to come in for a freshly made sandwich, a salad, or an open Danish sandwich for lunch – or a bun with a cup of barista coffee or freshly squeezed orange juice.
The café has room for 16 seated guests, and it is also possible to sit outside during summer.
Lunch to-go
Brædstrup is located close to many nature attractions, and at Huusom's you can pick up lunch for your excursion. It is possible to order a lunch basket consisting of sandwich, water/soft drink and a piece of cake – perfect for a daytrip or a short hike. Call in advance and it will be ready for you when you arrive.
You can purchase sandwiches (also vegan), salads, open Danish sandwiches (smørrebrød), bread, and a big selection of cake tapas – delicious snacks to enjoy in nature.
So, where are you bringing your lunch from Huusom's? On this page you can find inspiration for experiences in Bakkelandet.
About Brædstrup
Huusom's is found in the central shopping street in Brædstrup. The little commercial town halfway between Horsens and Silkeborg has been beautified impressively in recent years,  Here, you will find exciting specialty shops, eateries, green zones, a bathing lake, and a nice local park. A good way to experience the town/village is on the Brædstrup Treasure Hunt, which takes you to the new activity park, a troll in Ring Forest, Huusom's, and much more.
You can find inspiration for other activities in Brædstrup on this page.
A part of The Coastal Land food map
Huusom's is one of many interesting local food manufacturers and farm shops who are mentioned on the food map of The Coastal Land. The map is your guide to local high-quality products. From dairies to smokehouses, and orchards - The Coastal Land has it all.