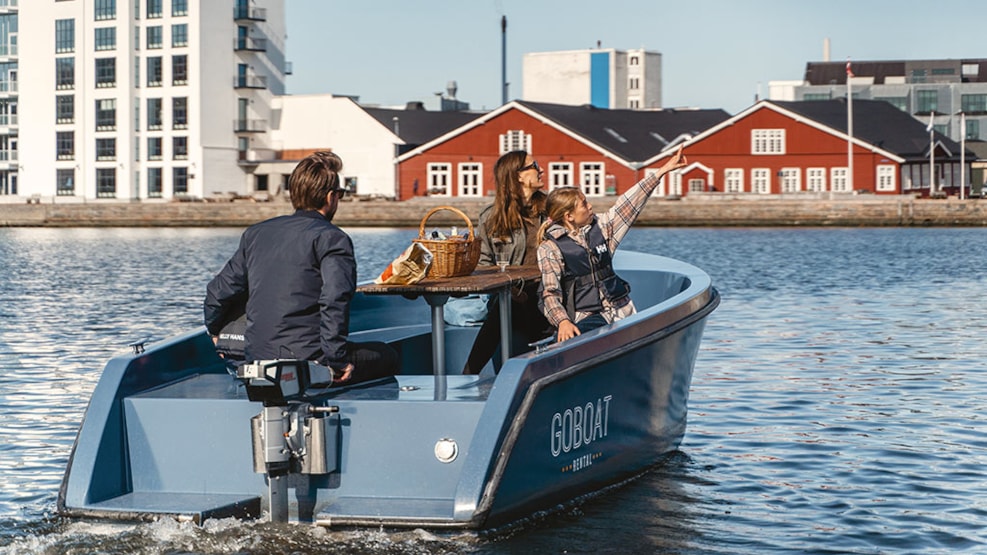 GoBoat Odense - Boat Hire
Be your own captain in Odense Harbour with GoBoat. Whether your family is going on a trip this weekend, celebrating a birthday, want to show off Odense in front of guests or want to take a much-needed break from the hectic city life with friends, a boat trip is a good choice. Each boat can accommodate eight people.
With our boats, you can experience it all on your own and at your own pace. You control the boat, which does not require a sailing license. We will instruct you in the use of the boats and the rules for navigating the water. You're the captain.

GoBoat has been developed based on the good, sustainable experience. We want to treat our surroundings with respect and keep the harbour clean and untouched by our boats. This basic approach characterizes everything from our environmentally friendly electric motors, charged by solar cells, to the sustainable wood from which we have built our tables.

You can bring your picnic and enjoy it on board. However, we also sell drinks and snacks that you can take with you. A selection of snacks and ice cream are available before and after the trip in our outdoor café, located 50 meters from the boats.