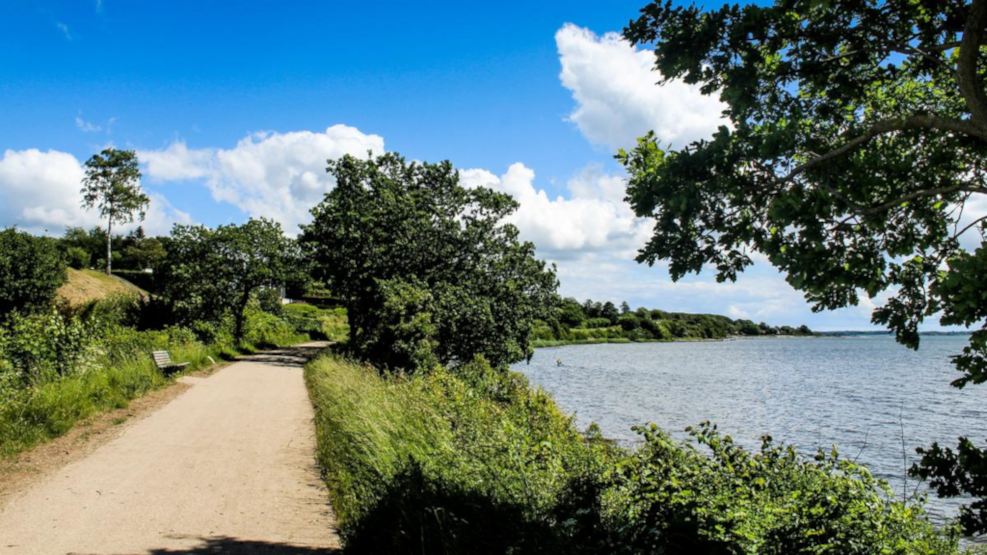 Fyrholt Rejser
This Danish travel agency organizes hiking trips in Denmark and Europe. However, nowhere is their expertise as strong as in their home turf, the beautiful nature around Horsens Fjord, where you can join a five-day hiking trip and experience some of the best hiking landscapes in Eastern Jutland.
On a guided hiking trip in The Coastal Land
Fyrholt Rejser is a Danish travel agency specializing in hiking trips in Denmark and the rest of Europe. Based in the scenic Sondrup, north of Horsens Fjord, they have a particularly good knowledge of hiking opportunities around Horsens Fjord, which offers diverse and magnificent nature and good infrastructure with well-maintained trails.

With Fyrholt Rejser, you are guaranteed an experienced tour guide. The trips are group tours typically with a minimum of 10 participants, so you have plenty of opportunities to meet new acquaintances while enjoying the beautiful landscape. The agency also arranges trips for private groups.
From Prison to Monastery - Hiking trip around Horsens Fjord
Pack your hiking boots and join a five-day hiking trip around Horsens.

You will be accommodated at TeaterHotellet in the middle of the pedestrian street in Horsens. Then, you can look forward to wonderful hiking experiences at The Fjordmino (the route around Horsens Fjord), The Kanino (the route around the island of Endelave), The Nature Path Horsens-Silkeborg, The Gudenå Path, and the urban natural experiences of Bygholm Lake and Nørrestrand nature reserve.
As part of the hiking program, you will also have the opportunity to see some of the area's major attractions, such as the prison museum, the Den Genfundne Bro (The Uncovered Bridge), and Klostermølle (Monastery Mill). The nature experience is quite diverse, and you will hike along the fjord, lake, river, island, and over high hills. There are three long hiking days with +20 kilometers of hiking, while both the arrival and departure days offer shorter hikes.
Book your hiking trip around Horsens Fjord
The hiking trip around Horsens Fjord will take place in 2023 from July 10th to 14th. On Fyrholt Rejser's website, you can find information about all the practical details regarding the trip and book your journey.
Groups, big or small, are also welcome to contact Fyrholt Rejser to inquire about organizing private hiking trips around Horsens Fjord.
Explore the many other destinations
Would you like to go hiking in Southern Europe, the Alps, or perhaps Japan?
Fyrholt Rejser arranges trips to several different destinations.
On their website, you can get an overview of upcoming trips.