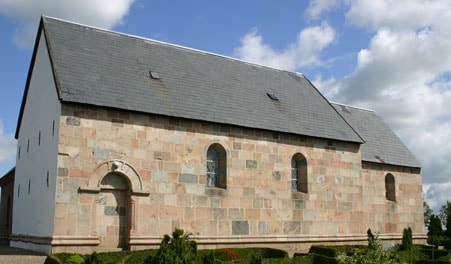 Foulum Church
The church of Foulum is considered one of the oldest Danish stone churches. it was bulit in Norman style of raw fieldstones. The exterior of the church, particularly the foundation wall, makes us believe that it was built by the same masters as those who built the Viborg Cathedral 1165 - 1170.

The north side of the church remains unchanged in its oiginal form. Bigger windows have since been incorporated in the southern wall, and the men's entrance has been walled up. The walled-up entrance is worth seeing for its chequered ashlar.

The pulpit and the altarpiece date back to 1633. When the church was being renovated in 1945, the grey paint was scraped off, and the beautiful wood carvings now appear with the original paintings.
The church was once used as a burial ground. A munber of oak coffin lids have been kept, and the carvings still stand out in spite of many centuries' wear of footsteps. These lids can now be seen in the church porch.