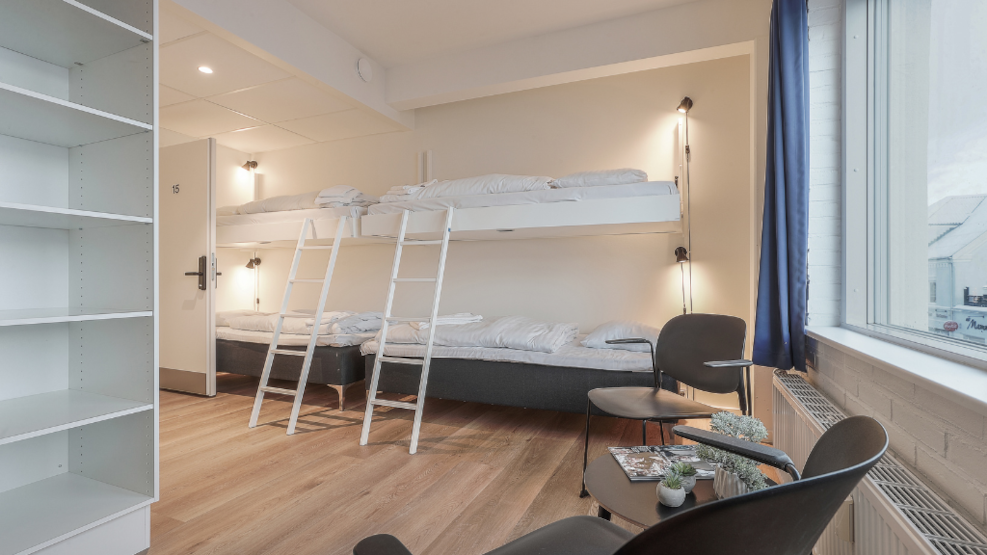 Bankbox Hostel Aabybro
Book a room at Bankbox Hostel Aabybro and stay close to the DGI House facilities, close to the airport, close to the beach and close to Aalborg. We offer rooms that can accommodate up to 4 people and 6 people.
Our newly built and modern hostel is full of comfort and good quality. Each room is decorated with a nature picture, showing the natural gems
of the area. These pictures give each room a cosy atmosphere, as well as inspiration for what to experience in the area.
Our Hostel welcomes all guests from near and far regardless of the purpose of their visit. We welcome everyone whether you are on a family stay, a training camp or a business trip. All stays include cleaning and linen package.
Our hostel can accommodate 70 guests in 4 or 6 person rooms. Each room has its own toilet and bath.
With a stay at Hostel Bankbox Aabybro you have every opportunity to use the DGI House, which is within 150 meters. As our hostel is part of the DGI House, it is possible, for a small user fee, to book a badminton court, use the gym, swimming pool or our new CrossFit Bankbox.
Book your room easily, quickly and contactless. On the day of arrival you will receive a door code, so you can arrive at your convenience.