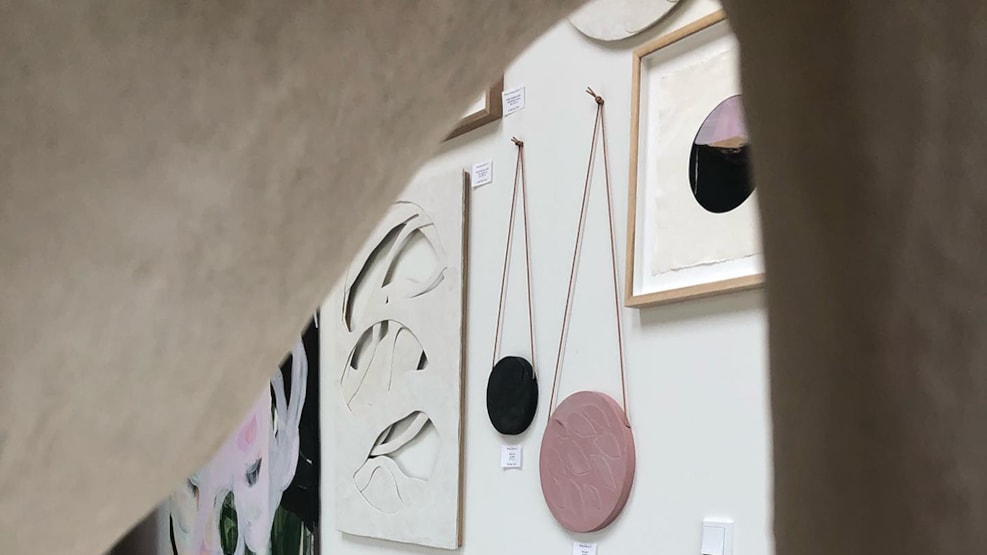 Arp Atelier
In the village of Bjerager near Odder, artist Lone Arp has her gallery and studio. Here, you have the opportunity to see and purchase her beautiful works of art, including paintings, wall art, and sculptures.
Informal aestetics 
In the idyllic village of Bjerager, Lone Arp has set up her studio, where she displays her paintings, sculptures, and reliefs. In a covered walkway between two wings of the black, modern wooden house, which itself is a work of art in the old village, you can visit the gallery on open exhibition days or by appointment. You might even be lucky enough to catch the artist in action as she creates her works.
Sensual Forms of Expression
Lone Arp works with many materials, but primarily focuses on paintings, wall reliefs, and sculptures. A recurring theme in her art is a gentle expression with the use of soft strokes and curves. Her works are characterized by a beautiful interplay of colors, created by the use of multiple layers and a play of light and shadow. The abstract motifs have an organic and lively character, inspired by plants and flowers in nature.
However, Lone Arp is not keen on being tied down to a particular style or discipline. While her works have a clear, recognizable Arp-signature, there is also a lot of visual variation that allows most people to find a piece that appeals to their taste.
Open by Appointment
Contact Lone Arp in advance by phone or email if you wish to visit the gallery/studio. It is usually only open by appointment, but keep an eye on Instagram, where Lone Arp publishes exhibitions and opening hours. If the flag is out, you are welcome to drop in without prior notice.
Stay the night at the atelier 
Arp Atelier is located in the artist's private home, where they have also chosen to start a bed & bath. Here, you have the opportunity to stay in stylish designs and good facilities. Just outside the door, total peace awaits with a view of fields and the peaceful village.
In Bjerager, you should also treat yourself to a visit to Fru Møllers Mølleri farm shop with a restaurant, bakery, butcher, ice cream parlor, fresh vegetables, and more.